Alumni Classes Of 1940 - 2024
Lafayette Alumni Association, INC.
In Memory
William Graul - Class Of 1948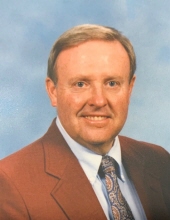 Dr. William James Graul Jr., 90, husband of Sally Jo Lane Graul, departed this life on November 11, 2020 at his residence in Versailles, Kentucky. Born October 26, 1930, in St. Louis, Missouri to William James Graul, Sr. and Anita Dorothy Kimmell Graul.
He was a graduate of Lafayette High, and a veteran of the United States Airforce where he served from 1951 to 1956 .He was a 1957 graduate of Transylvania University of Lexington, Kentucky, 1961 graduate of Louisville School of Medicine, served his internship in 1962 at University of Texas Medical Branch in Galveston. Dr. Graul was a longtime community physician in Versailles, Kentucky, and a avid University of Kentucky football and basketball fan.
In addition to his parents he was preceded in death by his son, Brent Graul.
Dr. Graul will be lovingly remembered by his wife, Sally Graul, Versailles, Kentucky, sons, Craig S. Graul, D.O, Bristol, Tennessee, John Andrew Graul (Jennifer), Shelbyville, Kentucky, daughter, Sabrea Rivette (Chris), River Ridge, Louisiana, sisters, Jackie Judge, Queenstown, Maryland, Marilyn Smith (John), Eldorado, Illinios, Daughter in law, Lizsa Vickers Graul, Versailles, Kentucky grandchildren, Ashli Graul, Leslie Graul, Joshua Passons, Cooper Catalanotto, Christian Graul, Stephen Tyler Graul, DMD, Jenna True, and a host of great grandchildren, nieces, nephews, cousins, and friends.
Visitation will be held from 4:00 pm to 6:00 pm on Monday, November 16, 2020 at Blackburn & Ward Funeral Home. Memorial will follow visitation at 6:00 pm, on Monday. Graveside Services will be held at 1:30 pm with Military Honors on Tuesday, November 17, 2020 at Camp Nelson National Cemetery. Those attending the visitation and graveside services must wear proper facial coverings and follow social distancing guidelines. Memorial donations are suggested to the one of the following, Woodford County Historical Society, 121 Rose Hill Ave, Versailles, Kentucky 40383, Versailles United Methodist Church, 230 Paynes Mill Rd, Versailles, Kentucky 40383, or Bluegrass Care.